VJ, stylist, dancer and TV personality Andy Kumar is well known in the industry today! However, while he enjoys unparalleled fame and fortune today, the journey till this point has not been easy at all. Recounting his journey, he says that it has been quite a struggle.
"I was raised in the UK, England and grew up there. I had a lovely childhood but unfortunately, I lost my father when I was around 13 years old. We faced a lot of hurdles growing up. My father was a restaurateur, and he had 3-4 restaurants in London. But when he died of cancer, he was bankrupt. My mom and family were left to take care of things. I have an older brother, and 2 twin sisters and one of them has been physically disabled since birth. There was a lot of struggle and hardship in my early years. We were left with nothing. My mom worked really hard, and from being a restaurateur, she went on to work in a factory for many years. She worked hard to keep a roof over our heads & brought us up with strong Indian values. She is my strength" he says.
As an Indian dancer in India having to struggle to do what I loved, I decided to try my luck in Bollywood, moving to India at a very young age. I have to say I have been very lucky. India has been so kind to me. I did around 12 music videos in my first two years. The first job that I got as a choreographer was with Universal Music with Vinay Sapru & Radhika Rao. It was a song called Kaliyon Ka Chaman. That song became a super hit. The model was Meghna Naidu and trained her for about 6 weeks before then choreographed the video.
Andy's credits include; 'Yeh Kya Hua' Sony music. 'Nacho Nacho' Times Music. Kanta laga' and many more!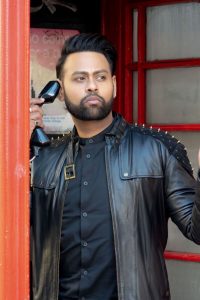 Then, there was no looking back! "The first film I got was The film Page 3, a Madhur Bandharkar's movie. Kuan Ma Doob Jaungi became a superhit. I did all the songs in the film. After that, I was lucky to work in many more great film projects with big production houses. However, soon, he had to change his line of work. "Up until then, I had a great career and then something happened…I had to go back to England. I came back and restarted the choreography but found myself working on a film as a costume designer. I have done my A levels in dress and costume design. So, I had an understanding of costume design and I had experience in the film industry. So. I decided to do this to sustain myself. I worked on my first film Tashan, and we did all of the secondary artists of the whole film. And then, we did the songs also. My second film was Bachna Ae Haseeno, then Ghajini. I have done a lot of films after that," Andy Kumar says.
Luck has always played a huge role in his life. "After that, I was sitting just around the corner in Bandra and was making people laugh, as I do. I was sitting there having fun and I did not know that Sheetal Sudhir, the Creative Director of channel V at the time was enjoying the laughs. I thought of them as friends because I talk to everyone. Then I got a call from channel V and they told me to come and work with the VIVA girl group, which was an all-girl band. I went into channel V being a choreographer and director and I started doing direction of the music videos that they were doing like Jaha Ho Pyaar Ka Mausam. The girl band group had known names like Anushka Manchanda, Neha Bhasin, Pratichee Mohapatra, Mahua Kamat, and Seema Ramchandani," he says.
Andy Kumar adds, "Then Get Gorgeous 5 happened where I was supposed to be the choreographer backstage and make sure everything was running smoothly but when they saw the first episode, they said to make me sit at the panel because my point of view required entertainment.
I was soon called for a meeting and was offered to be the brand face of Channel V. They told me that they are going to relaunch the channels and are looking for three fresh faces. I went through my phone book suggesting names but then they told me to be the face of the channel. I told them that I can't do it but they told me that I just did it so well and people really like me. I thought to give it a try and my first shoot happened at channel V, it was such a disaster. I went home crying and thought that this job isn't for me. Sheetal told me that some things will work and some things might not but you have to keep going. Then a show called Dare To Date was offered to me to host. I went to Delhi and shot that and it went super well. We shot like crazy. I was with the channel for almost 10 years."
Andy Kumar says, "Later, I left channel V and for a year, and did nothing. Then I did a show for Fox Life, Discovery, and travel shows. However, doing those shows I couldn't make much money and then one day someone suggested that I go for Bigg Boss.  A friend of mine introduced me to them in 2013. I went to meet the production team, and they asked me some questions. Manisha who is now heading the channel, saw a very good contestant in me and I did Bigg Boss 7 and finished 5th." After coming out of Big Boss, Andy went on to host India's Got Talent" IGT was super fun and later Jhalak Dikhhla Jaa happened. Later, I also did a show called BCL (Box Cricket League) with Balaji and at the same time, I was shooting Leela Ek Paheli with Sunny Leone. That overlapped with Kyaa Kool Hain Hum 3. I was also offered Laila Majnu and we shot this film in London," he says.