Arslan Goni is fond of every season. The actor shares that being born and raised in North India, he experienced all seasons, unlike Mumbai, which is his second home right now.
"I like the change in weather that keeps happening. If I'm in a hot place for a long time or on a beach for a long time, I'll start missing a winter destination, and so on. But I haven't been feeling the same weather for a very long time. That is the problem we have in Mumbai, where you constantly have the same weather," he laughs.
Winters are here. But Mumbai unfortunately gets little or no winter at all. Nevertheless people enjoy the season to the fullest, while others wish it to be cooler.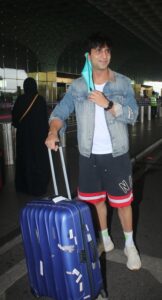 "I love winters. I especially love the winters in North India. I'm from Kashmir so it's snowing over there right now. But even during winters in Delhi too, it was so cold. I have many fond winter memories… I don't really miss anything because I usually visit Kashmir as often as possible. I am a big fan of Barbeque, and I love to eat that during winters. My favorite winter holiday destination is Scandinavia. That place has too much drama in it that I love," Arslan Goni adds.
The peeps in the entertainment industry hardly get to take long holidays. However, Arslan Goni begs to differ. "You are on a very long holiday or you're working (laughs). Jokes apart, if you enjoy travelling, you can always make time for it. There is nothing that cannot be done if we want to do it," he explains.
The actor's favorite short break getaway Dubai and Maldives, he often visits those places. Once the situation gets better Arslan wants to jet off and let his wanderlust spirit loose.