Barbeque Nation today launched a new outlet in Lokhandwala, Mumbai. The spacious 5,500-square-feet outlet can accommodate 110 people. It is a perfect place for hosting corporate lunches and family gatherings. The interior of the outlet is vibrant and trendy. It is in line with the aesthetic tastes of millennials and Mumbai's gastronomes.
Utkarsha Naik, a renowned Indian actress who is known for her roles in Iss Pyar Ko Kya Naam Doon and Siddhi Vinayak, graced the inauguration event.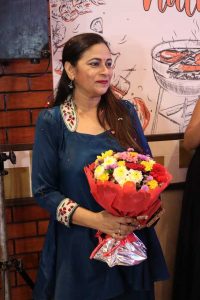 On the occasion, Mr. Faiz Azim, Chief Operating Officer, Barbeque Nation Hospitality Limited, said, "I am happy to launch yet another outlet in Mumbai. The merry ambience of the outlet is sure to cheer up the guests. We are well-known for our hospitality and I am sure our guests will not be disappointed."
The eat-all-you-can buffet at Barbeque Nation offers a plethora of dishes in vegetarian and non-vegetarian spreads. For starters, vegetarians can feast on the mouth-watering KUTI MIRCH KA PANEER TIKKA, WOK TOSSED SEEKH KEBAB, SHABNAM KE MOTI MUSHROOM, POORI KEBAB, and HONEY SESAME CINAMON PINEAPPLE, among others. The main course section for vegetarians can indulge in PANEER BUTTER MASALA, METHI MATAR MALAI, DAL-E-DUM, and VEG DUM BIRYANI. There are varieties of dishes for non-vegetarians too. The live counters offer a variety of veg options like CHILLI CRISPY PURI, PALAK CHAAT and MARGARITA PIZZA. The dessert section comprises CHOCOLATE BROWNIE, RED VELVET PASTRIES, ANGOORI GULAB JAMUN, KERSARI PHIRNEE, and more. The wide range of Kulfis at the restaurant will leave the guests salivating. These kulfis can be twisted by mixing various flavours into one and creating diverse combinations of the much-loved dessert.
About Barbeque Nation
Barbeque Nation is a pioneer in India to promote 'DIY' (do-it-yourself) cuisine with a concept of the live on-the-table grill since its first store in Mumbai in 2006. Barbeque Nation was founded with a simple vision – offering a complete dining experience to customers at attractive prices. The philosophy extended to all aspects of service and caused the chain to expand rapidly. Over the last 15+ years, Barbeque Nation has expanded to over 83 cities with 180 outlets in India. During this period, the brand innovated with interactive live counters, multiple Kulfi varieties and a unique delivery product portfolio of 'Barbeque-in-a-box'.