Himansh Kohli who will soon be seen in the film Boondi Raita, says that he makes sure to reinvent his look regularly as it helps him stay relevant. The actor says that this is very important in showbiz.
"The quote is, 'change is inevitable, and I also like to experiment with how I look, so I keep changing it as per the trend or my liking. I also have an innate hunger for learning and adapting to new things; one has to keep reinventing to stay relevant. One of the finest examples is Anil Kapoor Sir, who has been growing younger each day," he says.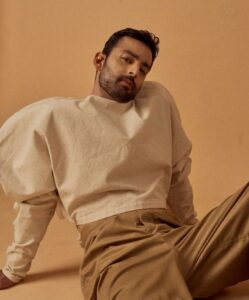 He adds, "It is quintessential if you want to show versatility. Changing your look is an expression that you are comfortable picking up various roles and the transition involved in the process of adapting to a certain character."
He is often touted as someone who has a great fashion sense, and Himansh says that such praise always makes him happy. "That's pleasing to know every time I hear it. I care about how I look but don't fuss over it to the point that it becomes the only thing in me. I give equal importance to other traits that make for a good personality, like communication, presence, being relevant, and more. I think I stand out because I never hesitate to try to experiment with my look; I wear socially-acceptable and bizarre outfits with the same conviction," he says.
Ask him what his idea of fashion is, and he says, "The only mantra I have regarding fashion is comfort. I always pick a good-feel outfit over a good-look outfit. It reflects poorly on your personality if you aren't comfortable with what you're wearing. There's an imprint of your personality in everything that you do, and the decisions we make on a day-to-day basis results in who we become. Fashion is a reflection of the state of your mind. It is very much possible to understand someone's psyche just by looking at them and noticing these minute non-verbal cues."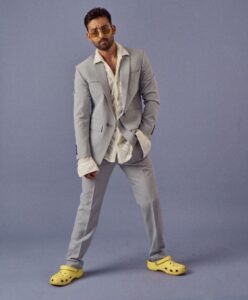 Talking about his colour preferences, Himansh Kohli says, "I wear it all—pink and yellow are my favourite. I even like to wear contrasting outfits without thinking much about the combination."
Meanwhile, trolling has become very common now, especially when it comes to clothes. But he doesn't pay much heed to it. "I know it's difficult to witness such negativity about you even when you're all about good vibes, but we should not bother ourselves with an appreciation or dismal as everyone thinks from their point-of-view and it might not always be in tandem with your perspective. We should be aware of what's being talked about from a constructive POV only," he says.
He adds, "I turn off the comments if it's off the edge, and I engage only with people I know. I also don't shy away from confronting people and giving them a flavour of my opinion."