An experience of over 20 years of directing movies, judging reality shows and being a show host, Bollywood director Karan Johar is all set to add to his flamboyant profile with a never seen avatar.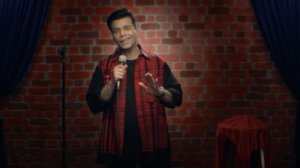 The witty KJo known to bring out myriad emotions from the actors and actresses he works with, is pushing himself to try something new in collaboration with Britannia Good Day.
On his latest avatar change Karan Johar said, "Wit and humour is something that always fascinated me. It was indeed a good day filled with surprises, pun and full of fun."
Await the release in a few hours. Do stay tuned for the Britannia Good Day Surprise!  
Britannia Industries Limited bedazzled audiences across India by roping in entertainment industry stalwarts for its new campaign. Under the most seemingly familiar things in life, lie the happiest surprises! Britannia Good Day brought to the table a first of its kind campaign full of fun, swaps and surprises.

The brand roped in key influencers including the renowned Tollywood director Gautham Menon, Karan Johar, Udit Narayan, Baba Sehgal and south Indian entertainer RJ Balaji. Each with their distinctive styles and nuances surprises the audience in a never-seen-before avatar!
While we are all comfortable with Karan Johar in his eloquent element and Zakir Khan in his typical persona, this campaign sure has a splendid surprise planned for us all.