Bollywood actor Vikrant Rai is well known for his work in TV serials like Kavyanjali (Star Plus), Ghar Ki Lakshmi Betiyaan & Maayka (Zee TV). He made his Bollywood debut with film UVAA (2015) in a lead role followed by critically acclaimed film Bhouri (2017) which is currently trending on Netflix.
Apart from being an actor, Vikrant is a hardcore adventurer at heart, known for his passion for riding bikes to the less explored places of India. 
Vikrant Rai & his wife Priya Dass have covered many parts of India on motorcycle which includes the full circuit of Leh (Ladakh) known to be one of world's most deadliest & treacherous roads (Read: Vikrant Rai "Road less travelled" – Hindustan Times) & Mumbai to Munnar down south.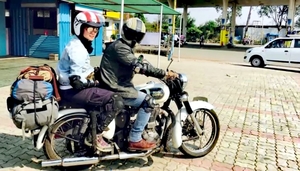 ATM) How did you think of going on a bike tour across India?
VR) Since childhood I was an adventurous & dreamer kind of a child. As a kid I imagined riding horses or hunting in forests. I was quite imaginative as a kid. When I grew up I always believed that one should give meaning to their life and should leave behind a trail of stories which shall be told long after he/she is gone. There is this thing that's always on my mind, that today you are alive but the next moment is not guaranteed, so live it to the fullest. This gave birth to the idea of my motorcycle adventure. Luckily, my wife also joined me and that's how we ended up having so many adventures together.
ATM)  What preparations did you have to make before starting your journey?
VR)  First of all we decide our starting point and the end point. Basically I study the route carefully and plan our daily starting point & halt points, which may slightly vary due to many factors like weather, motorcycle condition, our physical & mental state. We pack clothing & footwear which suits the purpose of riding. We don't ride without our helmets, riding jackets and riding gears. We make sure to use sunscreen before we start our journey. My wife as a pillion carries a few things like sunscreen, face wash, sanitiser handy so that they are easily accessible as & when required. My wife carries a pepper spray close by just in case & I carry a military knife so that we are safer than sorry. In these long rides of many days one must know basic things about their motorcycle. So we always make sure to ask the bike rental guy about the bike as much as possible and make a note of it. Also it's very important to keep yourself hydrated with water or energy drinks during the ride.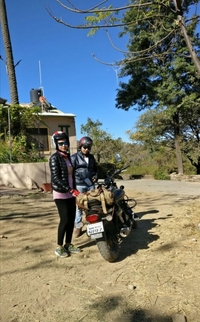 ATM)  What was the toughest part of your journey?
VR) Sometimes we look for remote and unexplored destinations of India. Riding to these destinations offers us an adventure in the forms of no roads, dense forests & sometimes bad weather. Covering such inhospitable regions is always a challenge & more or less life threatening. But that's what adventure is all about, right?
ATM) What was your most memorable moment?
VR)  There have been quite a few. For instance when we started our epic Ladakh adventure from Gurugram, the riots broke out due to the sentencing of Ram Rahim by high court. We left at 4:00 Am to avoid any kind of untoward incident. Thankfully we made it safe & sound but it was very scary. During our Ladakh adventure we met a guy who helped us a lot in terms of paperwork & permit to cross high passes. He was excited to have me at his residence. We were also surprised to see this Ladakhi man married to a British girl & they had such a lovely daughter. On top of that, his British wife cooked delicious Rajma Chawal for us. We can never forget those moments we spent with their lovely family. Also after crossing Baralacha high pass, we took shelter in a camp for some hot tea and hot water.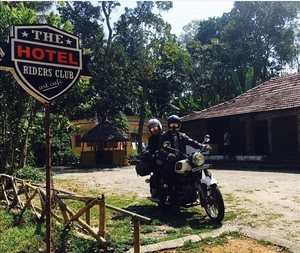 The weather & terrain both were extreme & in the middle of nowhere, we met a fan of mine who happened to have seen my movie & had really liked it. He was the owner of that tent. So that was another memorable moment for us meeting a fan in the middle of nowhere. We made two Israeli friends and as the height of the passes started increasing it became difficult for our bikes to climb so we shifted our luggage on their bikes since they were solo riders. But at one point our bike refused to climb up and they rode past us. Due to no mobile connectivity in these desolate regions we lost our luggage along with our Israeli mates. But we did not lose hope and after spending a very cold & difficult night at a temporary camp, we set out to find them. We crossed the highest pass of Taglang at around 17500 ft. braving bone chilling cold and reached a village to the other side where we finally found them at a small cafe. Also during this trip we crossed Zojila pass, known as one of the world's most dangerous passes at night that too during rain with no roads and thus slippery mud and to our left side, many feet deep gorge. This was our brush with death and we were half dead & battered battling it. But we never gave up & came out of those horrifying moments.
During our North East motorcycle adventure we faced many difficult situations as most of the regions are very remote. We crossed jungles & mountains at night. For hours we struggled with muddy roads which were very challenging for both of us physically and mentally. But every time, no matter how deadly the situation was, we never lost our nerves. I am always thankful to my wife for always supporting me and never complaining during these challenges. Infact, she kept speaking encouraging words in my ears during those moments.
TO BE CONTINUED…