Sitarist, music producer and mental health advocate, Rishab Rikhiram Sharma brings 'Sitar for Mental Health' to India after touring the world. As a part of the India leg of the tour, Rishab will be performing in Ahmedabad on the 20th of January 2023.These hour-long musical recitals are designed to invoke states of deep reflection, receptivity, and introspection. Sitar for Mental Health events are multi-sensory-immersive experiences helping bridge ancient practices of sound and energy medicine using traditional Indian Classical music. The session will focus on silence, deep listening, and the gradual adoption of the development of musical improvisation and consciousness. Rishab uses Sitar as a tool to navigate the audience through a journey which begins with focusing on a personal intention and in due course sensing their emotions.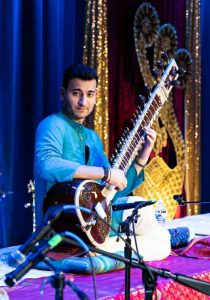 NY-based Rishab is popular on the new app Clubhouse, where he runs music rooms. At a time when covers are gaining popularity, Rishab constantly experiments with contemporary tunes on his sitar. He's done covers to another GoT song, called The Rains of Castamere (Lannister song) and The Pink Panther theme song that have got him "a lot of social media views suddenly, bringing Indian classical closer to pop-culture, one raga at a time.
Rishab Rikhiram Sharma is the youngest disciple of late Pandit Ravi Shankar, who started training at the age of 10. He belongs to a family of luthiers who have an instrument shop in the Capital. He moved to New York when he was 17 to learn music production and Economics. Before Covid, Rishabh use to perform twice a week at least and in Covid time being active on social media is the only outlet for creative artistes to be known.
AHMEDABAD
When- Friday, 20th January 2023.
Time- 6pm onwards.
Where- Hutheesing Visual Arts Centre, Kasturbhai Lalbhai Campus CEPT, 2GPX+VVW, Narangpura, Ahmedabad, Gujarat 380009, India.
Tickets available on-
https://insider.in/hsbc-presents-sitar-for-mental-health-by-rishab-rikhiram-sharma-at-hutheesing-centre-in-ahmedabad-on-20th-jan-2023-jan20-2023/event