Actor Saptrishi Ghosh who was last seen in the critically acclaimed film Lakadbaggha has a huge liking for bikes. He currently owns a Jawa Classic 300 CC bike and shares how and when his liking started.
"My love for bikes goes back to my college days. I was not given any bikes or rather I wasn't allowed to go for any bike rides because my grandmother was against it. Though my father had a scooter, he wasn't enthused to buy me a two wheeler. I was not even given a bicycle. When I had the money I first bought Pulsar 150 CC and then bought a Jawa Classic 300 CC," People do feel a lot of time bikes are not safe on roads.
Saptrishi Ghosh says, "As far as safety is concerned there's always an insecurity because it is open from all the sides unlike the car where you have a shell and are cocooned. But for bikes it is dangerous whether it is Indian or Foreign roads. I have always been riding through Maharashtra roads till now. Safety is very important- knee caps, safeguards, proper biking shoes, biking gloves and jackets and Helmet are must haves. So we should take our safety first. By God's grace I haven't faced anything."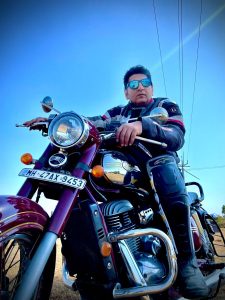 Speaking on his trips the actor says, "Long distances I haven't done much because I don't get enough time and the whole of last year I was working continuously. I have been to Nashik and little bit beyond that and did overnight camping on Patta fort."
So what's your dream mean machine?
"I would never want to sell off my Jawa because that is the legacy itself. But I also want to buy Triumph Bonneville T120. I like bikes with big cowls and they are pretty expensive. Even Harley is nice, Bonneville is 12-13 Lakhs on road."
He further adds, "Riding is therapeutic for me. It's my way of channelising my energy in one place. It's brings discipline and responsibility, determination. Because when you are riding for long hours your body might give up, your fingers, knees, legs, back, but everything pains a lot. But then we still ride taking stops. Also when its summer the heat is tremendous and during the winters the chills get inside the mind. And the fear of skidding. But it's always a great feeling on the bike."