Author, Actor & Emcee Umesh Pherwani launched his 3rd book titled "The Body Switch- Flab to Fab in 90 days" published by The Write Order Publications. While the book was unveiled by model and actor Anupama Verma; Suchitra Pillai and Vandana Sajnani read the excerpts from the book. Adaa Khan, Terence Lewis, Vishal Kotian, Prashant Rai, Poonam Pandey were also seen at the launch.
Who needs a Personal nutritionist when you can learn it all yourself? A health enthusiast himself, Umesh Pherwani's new book "The Body Switch"- Flab to Fab in 90 days, explores easy, sustainable food habits and exercises as keys to a healthy lifestyle. He is hugely popular for his philosophy of consuming the right quantity at the right time, his emphasis on sustainability in daily habits, diet and exercise routines.
Umesh has helped many people lose weight and regain health. He wants to reach out to as many people as possible through this book which has taken 7 years of research. His inspiration is his own experience of losing weight and the neurobiological discoveries in weight loss.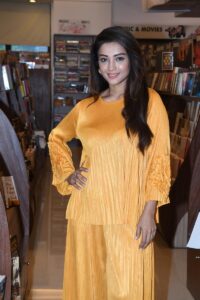 While going through a rough patch in his life, he put on a lot of weight under stress. He took control of his life and got back to his fittest self by focusing on his lifestyle and nutrition. He is presently an actor and an emcee, he has emceed and hosted over 1400 shows in 39 countries.
"If a healthy body is primer to a happy mind, it becomes exceedingly important to take control of whatever aspects of our health we can," says Umesh Pherwani, winner of Grasim Mr. India Mr. Popular 2003 award. He has also acted in popular TV shows like 'Family No 1', 'Best Friends Forever', Movers and Shakers etc.
"Each person gets the same 24 hours in a day, your body is a direct reflection of your emotional and lifestyle status," adds Pherwani.