Vedix's range of men care beauty regimen is a perfect gift.  Vedix is India's 1st customized Ayurvedic lifestyle and wellness brand that provides personalized Hair care, Skincare, and Wellness regimens. Itsunique proposition is to curate products to suit each individual's body characteristics, as identified by their doshas.
The core of Vedix is the Tridosha theory of Ayurveda. Every person is born with their unique set of Doshas (Vata, Pitta and Kapha) that make their Prakuriti, and true Ayurvedic solutions are customized to address each individual's uniqueness. It seeks to achieve this by understanding one's Prakuriti and skin/hair/body concerns through a questionnaire, and then leverage machine learning and artificial intelligence-driven technology to craft individualized products.
The concept of customization is very new to the Indian lifestyle and wellness landscape, and Vedix endeavors to break the notion of one size fits all, as well as the vicious cycle of trial and error that leads to unsatisfactory results. Vedix is the first and only brand that offers customized Ayurvedic solutions, catering to individual need.
Take a quick dosha quiz on Vedix.com along with your father/brother/boyfriend to get customised hair care solution for him. With this gift hamper, you make sure that your loved ones have the best hair care regimen which is formulated specially for them using 5000 years old Ayurveda's secrets.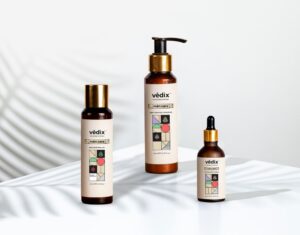 The Vedix hair care range for men comprises of:
Men Care Hair Re-Growth Serum
Vedix Men Care Hair Growth Serum is an essential step to promote hair growth. The serum treats your follicle roots on a micro level. Since its water based, the serum is easily absorbed into your scalp for maximum effectiveness. This helps your hair follicles absorb the benefits of the herbs and essential oils directly.
Price: MRP – Rs. 1299
Men Care Hair Re-Growth Serum with Dandruff Control
Vedix Men Care Anti-Dandruff Serum is an essential step in reducing dandruff and promoting hair growth. The serum prevents dandruff with its hand-picked anti-inflammatory & anti-fungal ingredients.
Price: Rs 799 
Men Care Anti-Hairfall Shampoo
Cleansing your hair and scalp after oiling is the best way to get rid of the excess grim, dirt, bacteria, and the oil production from your scalp and hair lengths. The Vedix men care anti-hairfall shampoo is free of harmful ingredients like sulfates and parabens. It is natural coconut-surfactant shampoo with no added synthetics.
Price: MRP – Rs.499
Made with herbal ingredients, this conditioner protects your hair from all types of external damage.
Price: MRP 499
Vedix Men Care Anti Hair Fall Oil Aloe Vera + Licorice
Oiling your scalp is an essential first step in your holistic Ayurvedic hair growth regimen. The Vedix Anti-Hair Fall Oil (Aloe Vera + Licorice) is customised with more than 12 herbs that work together in nourishing your hair and keeping it healthy.
Price: MRP 699 (Oil) + Serum (799)