Villain Lifestyle, India's men's fashion & lifestyle brand, has just launched its official soundtrack #HeroNahiVillain. A super energetic and appealing number to groove to, this track aims to celebrate the Villain that lives in all of us: the unapologetic version of yourself that brings out the best in you. The soundtrack video features celebrated choreographer Tushar Kalia, who brought alive the true Villain persona in the track.
#HeroNahiVillain campaign was loved and shared by some of the biggest names in the industry like Karan Johar, Vicky Kaushal, Mouni Roy, Dharmesh and more, and has become a viral sensation on Instagram. Launched digitally on Instagram, the soundtrack video is also available across all music platforms including Gaana, Spotify, Amazon Music, Apple Music etc. Along with the video launch, Villain has also launched its first UGC-contest called #HeroNahiVillain Hook-Step Challenge, that encourages users to send in their versions of the Hero Nahi Villain hook step. Tushar further amplified the same on his handle and encouraged participation from the digital audience.
Tushar Kalia who has previously worked with the likes of Ranbir Kapoor and Anushka Sharma in Ae Dil Hai Mushkil, and also is the judge of the reality dance show – Dance Deewane looks sizzling and villainous in the soundtrack The campaign is further being amplified by KGF-star and brand partner, Yash.
Ex-bad boys of Beardo, Villain Lifestyle is the latest venture of entrepreneurs Ashutosh Valani & Priyank Shah, in partnership with KGF-famed Rockstar Star Yash. Unapologetic and confident in its approach, Villain is made for men who are true to themselves and their unique styles. A celebration of the antagonist that lies amongst all of us, Villain is here to offer a range of men's fragrances, accessories, and apparel for an unforgettable styling experience.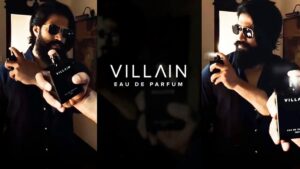 "We are excited to collaborate with Tushar, someone who embodies the Villain persona of being a self-made man in the industry, fiercely passionate about his work and being a master at that, which is why his popularity extends across the country. He is looked up by so many upcoming as well as established dancers in India. We are looking forward to see our community try their hand at the #HeroNahiVillian Hook Step Challenge entries and bring their best foot forward", commented Ashutosh Valani & Priyank Shah, Co-Founders, Villain.
Villain's #HeroNahiVillain Challenge is all about letting your inner spirit be free and celebrating your true self, unapologetically. The winner of the Hook Step Challenge will not only get a chance to be a part of a digital shoot for Villain's Campaign but will also win a gift hamper worth INR 10K from Villain, including lots of exclusive merchandise.