On the opening gala night of Asia's largest film tourism event, IIFTC honored filmmaker, Anurag Basu for his outstanding contribution to world tourism through his cinema. The award was presented by Mikael Svensson, Co-President, European Film Commission Network (EUFCN) at a glittering award ceremony in Mumbai.
According to Harshad Bhagwat, Promoter of IIFTC Awards, "Anurag's cinema has showcased many wonderful locations and given an impetus to film tourism, be it Murder or Gangster or Kites or Jagga Jasoos. His cinema impacted the tourism of the locations they were shot at making him the obvious choice for the award."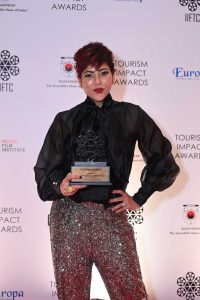 Another big winner of the evening was Bengali Director, Kamaleswar Mukherjee, who in his career spanning over 13+ years has directed 11 films.  The star of the evening was the Sri Lankan singer Yohani whose song 'Manika Mage Hithe' got global recognition and is currently also trending in India.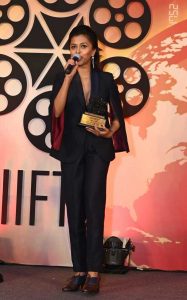 The evening also saw awards for Cinematic Excellence being presented to the makers of Vaazhl (Tamil), Disco Raja (Telugu), Kotigobba 3 (Kannada), Thaali Pogathey (Tamil), Sardar Udham (Hindi), Baaghi 3 (Hindi), and Annabelle Sethupati (Tamil) for showcasing global locations to Indian audiences.
The evening was an opening night of the 3-day mega film tourism event featuring over 50 international companies from over 20 countries coming to Bollywood, Mumbai to woo Indian filmmakers. The event saw participation from countries including Azerbaijan, Abu Dhabi, Krakow, Kazakhstan, Montengro, Norway, Oman, Panama, Poland, Sri Lanka, Sweden, Yas Island to name a few.
Director Anurag Basu began his directing career in television as an assistant director on Tara in mid 1994. After six months, he was given full responsibility for directing about 712 episodes and then moving to feature films in 2002. He has given films like Life In A Metro, Kites, Gangster and Murder. Later he directed comedy drama films such as critically acclaimed and commercially successful Barfi along with flop film Jagga Jasoos. His latest work is a black comedy Netflix film Ludo.