If you are struggling to get through the weekdays and are still looking forward to your weekend doing fun activities then Bhuvan Bam is surely going to make you feel jealous. Bhuvan, one of the biggest content creators in the country, is doing it already. Bhuvan has been roped in by the Dubai Tourism board for a campaign to promote Dubai as a hot tourism hub for their special summer time campaign making the hub ideal spot for excursions and fun activities galore.
Bhuvan, who recently made a trip to the one of the world's biggest and shiniest metropolises, had the time of his life. The actor engaged in a variety of fun activities, interactive spaces, and cultural events in the city which was curated by the tourism board. Bhuvan engaged in a Desert Safari, explored Old Dubai m, had a cultural lunch and much more in the between July 20-July 23. He was invited by Dubai to experience all these offerings the city has for all the millions of tourists who throng the metropolis every year.
The Dubai Tourism board has roped in Bhuvan being India's biggest content creators owing to a massive reach he has built reaching upto 100 million people across social media and enjoys a loyal close to 30 million subscribers on his YouTube platform alone. The digital campaign has just gone live across social media handles of the star and of the tourism board with a specially curated experiential video expected to be dropped on the creators YouTube platform soon.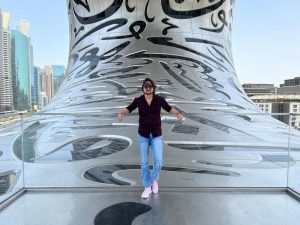 "I visited Dubai Autodrome, Skyview Observatory, and the Museum of the future. It was like a whole different world. This trip is special because I saw something from the past like Old Dubai and something futuristic as well. We all know Dubai for having a shopping extravaganza, which is also a part of it, but it is such a culturally rich country with such unique curated experiences that one can be part of. I'm grateful to Dubai Tourism and it was great to collaborate with them for this special campaign," says Bhuvan.
The YouTuber and now an actor has recently wrapped shooting for the maiden OTT series, Taaza Khabar, which also has Shriya Pilgaonkar in the lead role. While trying out different things, the creator turned actor is leaving no stone unturned to play the role of Vasya, including doing some action for the role. Recently, he shocked his fans by revealing a brand new clean shaven look from the series.