Gieve Patel, one of India's best regarded poets in English, will be the Poet Laureate of the 13th Tata Literature Live! The Mumbai LitFest 2022. His verse is familiar to all poetry loving Indians. He has published three books of poems, a book of plays, and his work has appeared in several anthologies.
Poet, playwright, painter, sculpture and physician, Gieve Patel is a well-known personality in the fields of arts and medicine, which he has practised in both rural and urban India. He is deeply engaged in society, not only as a doctor but also a teacher.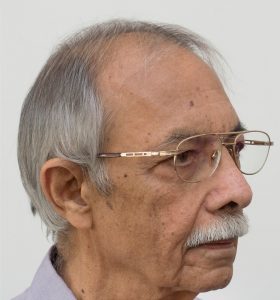 Gieve Patel's poetry likewise spans the myriad aspects of life. He is acutely concerned about the environment and many of his poems are focused on the beauty, fragility and vulnerability of nature and the urgent need to protect it. His work also ranges beyond nature to reflections on the human condition, with intense compassion for the deprived and downtrodden. He has a keen sense of atmosphere, and his poems are suffused with analogies from urban and rural life and medical life, with the human body as a recurring metaphor. His wide-ranging observations of life are often laced with a wry touch of humour. Some of his best known poems reflecting these attributes include On Killing A Tree, Post Mortem, From Bombay Central, Old Man's Death, Bombay's Own.
Accepting the Poet Laureateship for Tata Literature Live! The Mumbai LitFest 2022, Gieve Patel said, "I feel deeply honoured to be named Poet Laureate of the Tata Literature Live! The Mumbai Litfest. Many of us turn to poetry at important moments in our lives: when we fall in love, when we suffer a great loss, when we discover spiritual dimensions in ourselves that we were unaware of before. We also turn to poetry for the sheer joy of it. It is wonderful to be part of the Mumbai Litfest's tradition of celebrating poetry."
Director of the Festival, Amy Fernandes said, "It's a real privilege to have Gieve Patel, a most gifted and popular poet – but equally accomplished painter, sculptor and doctor – as our Poet Laureate for Tata Literature Live! The Mumbai LitFest 2022. He is renowned as much as an artiste as he is as a medical professional, and in the depth and range of his multi-layered life, talent, interests and achievements, he perfectly reflects the ethos of our Litfest where we present not only literature but also the best in language and writing in a range of other subjects."
Commending the contribution of the Poet Laureate, Mr. Harish Bhat, Brand Custodian, Tata Sons said, "A poet, physician, playwright, and painter, Mr. Patel is a known all-rounder. His poems have shaped modern Indian poetry and added considerable value to Indian literature. With much gratitude we present this year's Tata Literature Live! Poet Laureate title to Mr. Gieve Patel for his exceptional contribution to Indian poetry and look forward to hosting him at the festival."
Previous Tata Literature Live! Poet Laureates include Adil Jussawalla, Javed Akhtar, K. Satchidanandan, Jayanta Mahapatra, Gulzar, Keki Daruwalla, Vikram Seth, and Joy Goswami.
The Tata Group is the title sponsor of Tata Literature Live! The festival was conceived by Anil Dharker (1947-2021) founder and festival director of Literature Live!, which organises the festival with the support of the Tata Group.